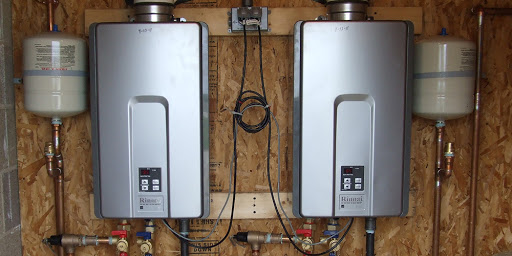 Water Heater Repair and Replacement
Do you need a new, high efficiency tankless water heater?
Are you seeking help repairing a broken or leaking water heater?
At Pathmaker Plumbing, we're Charlotte, NC's favorite plumbing firm, specializing in all water heater makes and models.
A properly functioning water heater is essential, as nobody wants to grit their teeth through an ice cold shower!
Call now to get a Quote,  704-733-7507.
Pathmaker Plumbing is an authorized Rinnai dealer and water heater installer.
A malfunctioning water heater can be downright dangerous, posing a fire hazard. If the overflow valve is blocked and the unit malfunctions, a tank-style water heater can turn into a steam-powered missile, shooting up through your home and out the roof! This is, of course, extraordinarily rare, but there's no doubt about the importance of a reliable, properly functioning water heater for your home.
Need an entirely new water heater but don't know which type and size is right for your home? There are three basic types of water heaters: tank, tankless and hybrid. There are lots of considerations when purchasing a new hot water heater — there's water storage capacity, tank or tankless, whole house or point-of-use, and there are different fuel types too! The team at Pathmaker Plumbing can provide recommendations for the right water heater for your home, based on your usage needs, home and family size and your budget.
In addition to water heater repair, replacement and installations, Pathmaker Plumbing offers a complete range of residential plumbing services to clients across Charlotte, NC and the surrounding region.
At Pathmaker Plumbing, we're fully bonded, licensed and insured to provide our clients with total peace of mind and confidence knowing they're working with a reputable, high quality firm. In addition, we stand behind our work, offering a full guarantee on the quality of our workmanship.
If you need a new tankless water heater installed or need help replacing an existing water heater, turn to the experts here at Pathmaker Plumbing — one of the top plumbing firms in Charlotte, NC!
Contact Pathmaker Plumbing today to request a price estimate or schedule your repairs or replacement. Call 704-733-7507.
At Pathmaker Plumbing, we provide quality profession plumbing services including repair and replacement of water heaters and tankless water heaters, drain repair, leak repair and leak detection, replacement of sinks, showers, faucets, toilet repair, garbage disposal repair or replacement and more. Proudly service Charlotte, Concord, Harrisburg, Pineville, Ballantyne, Weddington, Waxhaw, Matthews, Mint Hill, Huntersville, Cotswald and Indian Trail, NC.
Learn More About Pathmaker Plumbing

For Quick Reliable Service

call 704-733-7507
REVIEWS